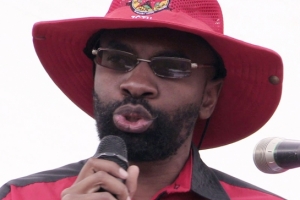 14 July 2020
PRESS RELEASE
RE: Threat to the life of the ZCTU President
THE Zimbabwe Congress of Trade Unions (ZCTU) has received with disgust report a of unknown people who visited the ZCTU President Peter Mutasa's residence during the night of 12 July 2020 and tried to force the family into their car possibly trying to abduct them. They also went to the car park and using a sharp object deflated all the tyres from the ZCTU President's car.
The ZCTU believes that this is the work of State security who wanted to abduct the ZCTU leader following the announcement that the ZCTU was mobilising workers to protest gainst the current economic malaise facing the country.
The ZCTU condemns in the strongest terms attempts to instill fear amongst workers' leadership and it will not work. We demand safety for our leadership and their families.
This is not the first time ZCTU leadership's lives have been under threat. Threatening letters and live bullets have been sent to them. We have reported to the police but these cases remain uninvestigated and our suspicion is that the state is behind all these intimidatory and threats to harm its citizens.
We call upon the state to assure the citizens that they are safe to exercise their rights as provided in the constitution and call upon it to investigate all the reported incidents.
Japhet Moyo
SECRETARY GENERAL