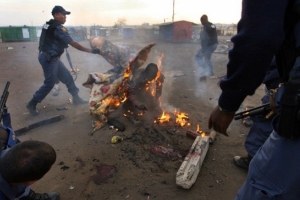 The Zimbabwe Congress of Trade Unions condemns the appalling xenophobic attacks directed against foreigners living and working in South Africa by clearly a group of criminals..
The attacks though a symptom of economic malaise and lack of job creation by South African authorities, should not be tolerated. The ZCTU calls upon the South African government to put in place practical policies that safeguard migrants and bring a lasting solution to the ever resurfacing xenophobic attacks.
The ZCTU is worried by claims by the malcontents that migrants deal in drugs and prostitution as justification for the attacks. It is the work of the police to root out criminals not for people to take the law into their hands. The ZCTU is of the firm belief that these are just flimsy justifications by criminals with deep hatred for foreigners and are now making it an annual festival to torture and butcher foreign nationals.
While xenophobic attacks happen elsewhere the magnitude and frequency that it has taken in South Africa is worrisome and points to a system that cannot control rogue elements. The South African government needs to act fast because if left uncontained there is a potential of retaliatory attacks spreading across the continent. However, the South African government also needs support from other countries to overcome these challenges.
The ZCTU applauds the statement by its sister organisation, the Congress of South African Trade Unions (COSATU) that strongly condemned the deplorable action of the criminal elements, who are attacking other African nationals in South Africa.
Such attacks will regress the continental strides that have been achieved on migrants. Migrants need to be treated with dignity wherever they are and African leaders also need to speak up against such inhuman conduct to forestall genocide.
Japhet Moyo
SECRETRAY-GENERAL