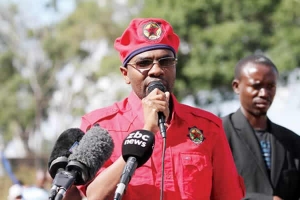 The Zimbabwe Congress of Trade Unions (ZCTU) has learnt with great sadness on the passing on of former Prime Minister of Zimbabwe, President of the opposition MDC-T and former Secretary-General of the ZCTU, Dr. Morgan Richard Tsvangirai on 14 February 2018.
A towering and a brave political giant, Comrade Tsvangirai epitomised the ordinary Zimbabwean's aspiration and desire for democracy, freedom and prosperity. His fight for democracy and pluralism is not only well documented, but also reverberates throughout Zimbabwe. Against all odds, the former Premier fought against the Robert Mugabe dictatorship, risking his life in the process. Indeed he was a victim of wanton arrests, beatings torture at the hands of a brutal dictator.
The ZCTU remember him as a humble and fatherly character who dedicated his entire life to the service of the working people of Zimbabwe by fighting for justice at the workplace. Many trade unionists of today passed through his able hands to become opinion leaders in the community and the country at large. The current stature of the ZCTU is largely attributed to him. Even during his sojourn into politics, he always remembered the workers and every at Workers Day celebrations, he would grace our commemorations.
We say go well Comrade. You fought a hard battle and you played your part. Goodbye Morgan Tsvangirai. Like musician Elton John said, we will never know whom to cling to when the rain set in.
The ZCTU conveys its sincere condolences to Zimbabwe, his family, the MDC-T and the entire democratic movement over the loss of this son of the soil. We will surely miss him. May his soul rest in eternal peace
Japhet Moyo SECRETARY-GENERAL